by
Josh Lanyon
Genres:
Fiction
,
LGBTQIA
Format:
eBook
Source:
by purchasing myself
 ~Penny's Series Rating: A ~
SO this wasn't a review I planned on doing, but I ended up enjoying this series so much that I wanted to give it a shout out. I am in love with this series. I'll be honest, I don't love every mystery I pick up. But this is mystery with a side of exquisite, yell out loud at the fictional character's you are reading about, angst. I will admit, I read all five books in three days. I barely slept because I couldn't go to bed until I knew what happened, and I was useless the next day, but it was so worth it. Josh Lanyon, it's official, I am a convert. He's become my go-to mystery author.
Adrien English Book Blurbs and Links
One sunny morning Los Angeles bookseller and aspiring mystery author Adrien English opens his front door to murder. His old high school buddy (and employee) has been found stabbed to death in a back alley following a loud and very public argument with Adrien the previous evening.
Naturally the cops want to ask Adrien a few questions; they are none too impressed with his answers, and when a few hours later someone breaks into Adrien's shop and ransacks it, the law is inclined to think Adrien is trying to divert suspicion from himself.

Adrien knows better. Adrien knows he is next on the killer's list.
Suffering from writer's block and frustrated with his tentative relationship with hot but closeted L.A.P.D. Homicide Detective Jake Riordan, gay bookseller and mystery writer Adrien English travels to northern California where he finds a body in his front drive. By the time the sheriffs arrive, the body has disappeared, and Adrien once again finds himself playing amateur sleuth. But when the game turns deadly, Adrien turns to Jake. Jake may be confused about some things, but keeping his lover alive is not one of them–no matter what the cost.Who are the mysterious strangers excavating on his land? And will he sort out his problems with LAPD Detective Jake Riordan, heavily into S/M sex but not so hot on relationships? Find out in this engrossing, slyly witty thriller.
After bookstore clerk Angus flees following terrifying death threats, owner Adrien must contend with a mysterious Satanic cult, a hot and handsome university professor, and his on-again/off-again relationship with closeted LAPD Homicide Detective Jake Riordan. 
Note from Penny: I this book, Jake is such an idiot! I want to kick his butt!  
#4 in the acclaimed Adrien English Mystery Series by award-winning author Josh Lanyon. Gay bookseller and reluctant amateur sleuth Adrien English's writing career is suddenly taking off. His first novel, Murder Will Out, has been optioned by notorious Hollywood actor Paul Kane. But when murder makes an appearance at a dinner party, who should be called in but Adrien's former lover, handsome closeted detective Jake Riordan, now a Lieutenant with LAPD — which may just drive Adrien's new boyfriend, sexy UCLA professor Guy Snowden, to commit a murder of his own.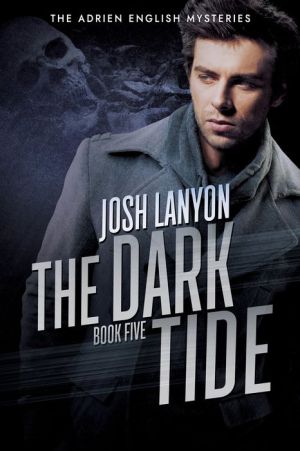 As if recovering from heart surgery beneath the gaze of his over-protective family wasn't exasperating enough, someone keeps trying to break into Adrien English's bookstore. What is this determined midnight intruder searching for?When a half-century old skeleton tumbles out of the wall in the midst of the Cloak and Dagger Bookstore renovation, Adrien turns to hot and handsome ex-lover Jake Riordan — now out-of-the closet and working as a private detective.Jake is only too happy to have reason to stay in close contact with Adrien, but there are more surprises in Adrien's past than either of them expects — and one of those surprises may prove hazardous to Jake's own heart.
About the Author
A distinct voice in gay fiction, JOSH LANYON is the multi-award-winning author of nearly seventy stories of male/male mystery, adventure and romance. Josh is the author of the critically acclaimed Adrien English series, including The Hell You Say, winner of the 2006 USABookNews award for GLBT Fiction. Josh is an Eppie Award winner, a four-time Lambda Literary Award finalist, and the first recipient of the Goodreads M/M Romance group's Hall of Fame award. 
Note: The photographs in this post contain affiliate marketing links to the Adrien English Series on Barnes & Noble's website. This means that if you click on the link and buy certain items, I will receive a small commission. The price is the same for you, though! Thank you for your support.
Related Posts